TURBO BACK EXHAUSTS TOP TIPS
Posted by KW DEALER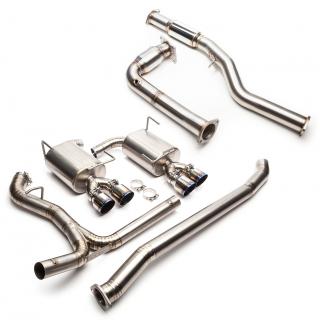 Choosing a turbo-back exhaust is probably one of the first modifications that gets done on a turbo charged vehicle. We will discuss this and follow it up with a couple of tips for your new purchase. There is a good reason for this. Lets get right into it.
First a bit of tech. The catalytic converter is a major restriction in the factory exhaust system. The short of it is a catalytic converter is an exhaust emission control device that reduces toxic gases and pollutants in exhaust gas from an internal combustion engine into less-toxic pollutants by catalyzing a redox reaction (an oxidation and a reduction reaction).
It is hard for the turbine in a turbo charged vehicle to push all that hot combusted gasses through the catalytic converter.  Adding to the restriction is the exhaust diameter. Adding a 3" or 76mm exhaust frees up the system and allows the exhaust gasses to flow more freely.
We have provided a lot of Exhaust systems for Nissan GT-R R35, Subaru WRX and STI, Ford Focus RS, Ford Focus ST, Ford Mustang, Mitsubishi Evo X and numerous other cars.
Definition:
Cat-Back: The section from the back of the vehicle that connects to the factory downpipes on turbo charged vehicles
Turbo-Back: The full exhaust system, on a turbo charged vehicle it will be from the turbo to the back of the vehicle. Downpipe including cat-back
Here is some tips for choosing your next turbo or cat-back exhaust:
Budget, this seems obvious but you get what you pay for. Some welds on exhaust systems don't last.
Sound, not all the exhausts sound the same. Ask a friend or post on your local car groups on Facebook or any of your social media to meet up and listen what their car sound like and if you like it. Stand outside and take a drive in side the car
Mufflers. Some can drone the ears of your head and your family or girlfriend might love you less if they have to put up with the drone. If they do like it you are off to the races. Oh and the coppers love them unless its your track car.
Do you need a turbo back? If you are just after the sound you might just opt for a cat-back
Yes you turbo-back or just adding a downpipe will require a tune.
The material that its made of will add to the cost and the lifetime. Most popular materials include stainless steel and titanium, the latter is more expensive due to materials and machinery and effort required to make.
Exhaust tips, there are numerous option, take your pick.
Here is a great video from the COBB Tuning video series that explains the exhaust components.
 If you liked this article feel free to subscribe to get notified of future articles.
 DISCLAIMER: We are a COBB Dealer and COBB Certified Pro-Tuner